Faradj Koliev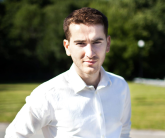 Education
B.A., Economics and Political Science, Stockholm University
International Master Program in Political Science, Stockholm University
Additional qualifications
The George Washington University, Department of Political Science and Elliot School of International Affairs. Visiting scholar, 2015 (Sep-Nov)
Research interests
My primary research interests are global governance, international political economy and cooperation, international organizations, and the use of sanctions in international politics.
Current research project
My PhD project focuses on effectiveness of "naming and shaming" by international organizations such as the International Labor Organization, the European Union, and the Organization for Economic Co-operation and Development. I am especially interested under which mechanisms and conditions shaming will be successful and the circumstances in which it is not.
Teaching
Quantitative Methods
Swedish Politics
Political Science Research: Method and Process
International Relations
Conference and peer-reviewed work
(Forthcoming) "Selecting for Shame: the Monitoring of Workers' Rights by the International Labour Organization, 1989 to 2011". International Studies Quarterly [with James H. Lebovic]
(2016) "Who gets Shamed and Demonized and Why?" The International Studies Association's 57th Annual Convention, Atlanta, USA.
(2016) "The Shame of Poverty" by Robert Walker. (2014) . Book Review. Political Studies Review
(2015) "The Politics of Leverage in International Relations– Name, Shame, and Sanction" Edited By H. Richard Friman, 2015. Book Review. International Affairs.
(2015) Understanding the Power of Shaming in International Politics (2015), The International Studies Association's 56th Annual Convention, February 19th , New Orleans, USA.
(2014) The Role of Reputation and Shame in International Politics (2014), Forskardagarna 14-15 May.
Other articles and media appearances
(2013) "Diktatorn som Europa har glömt". Published in Expressen.[with Loreen, Hans Gunnar Adén and Fredrik Malm].
(2015) "Ny global överenskommelse ökar pressen på världens ledare" Published in Tvärdrag and LO (Swedish Trade Union Confederation). [with Oscar Ernerot]
(2015) "Det är inte en skam att vara fattig". Published in Svenska Dagbladet.
(2016) "The Dominance of the Ruling Party Under Uncertainty". Published in Baltic Worlds – A scholarly journal from the Centre for Baltic and East European Studies (CBEES) Södertörn University, Stockholm.