Assessing knowledge inequality in global governance
Different people have different levels of awareness of global governance institutions (GGIs) such as the United Nations and the Group of 20. We need to better understand unequal knowledge about GGIs, as only the knowledgeable will develop informed opinions and be able to critically engage in debates about GGIs.
Over the past decades GGIs have become increasingly powerful. States have delegated more and more authority to GGIs to address trans-boundary challenges such as poverty, migration, climate change, and epidemics. But not everyone is aware of the growing importance of GGIs, let alone has knowledge about how such organizations work.
Unequal knowledge about GGIs is problematic for two reasons. First, the knowledgeable are disproportionately male, white, well educated, and well off, favoring some societal groups over others. Second, the knowledgeable are more likely to be able to critically assess GGIs and to voice their opinions in the public debate about GGIs, thereby perhaps also influencing what GGIs actually do.
So, how much do citizens around the world actually know about GGIs? Do some people know more about GGIs than others? Why do these inequalities arise?
How much do people around the world know about GGIs?
Evidence from cross-national opinion polls is very limited. Most polls which include knowledge indicators (such as the Eurobarometer and Gallup Voice of the People) ask respondents whether they have "heard of" specific GGIs. Yet "having heard" of GGIs does not indicate if a person's knowledge goes much beyond simply having heard the name of a GGI.
A more recent poll conducted by LegGov researchers Lisa Dellmuth, Jan Scholte and Jonas Tallberg yields more precise information on citizen knowledge about GGIs. Data from representative samples in four countries on four continents (Germany, the Philippines, South Africa, and the USA) from 2016 (administered online by YouGov) show how much people know about both intergovernmental and nongovernmental GGIs: the IMF, the UN, and Amnesty International. The data comes from three multiple choice questions, a question format that is commonly used in public opinion research to measure political knowledge: the first concerning the IMF's headquarters; the second regarding the five permanent member-states in the UN Security Council; and the third on the issue concerns of Amnesty International.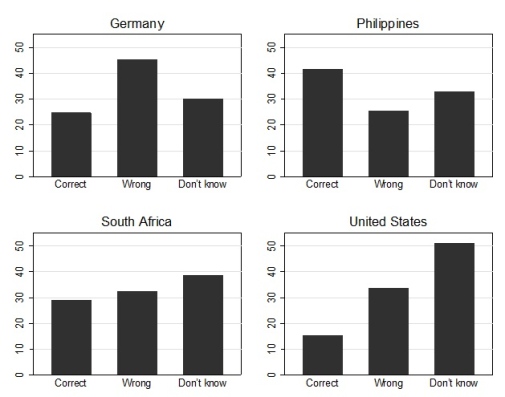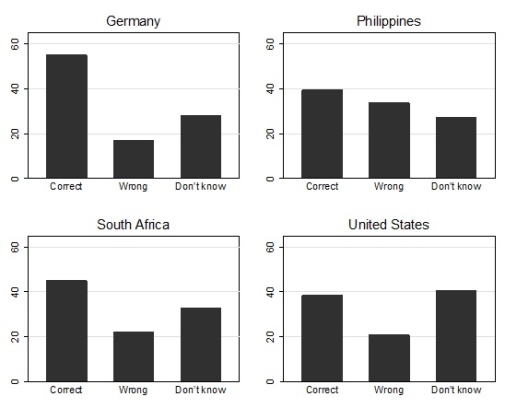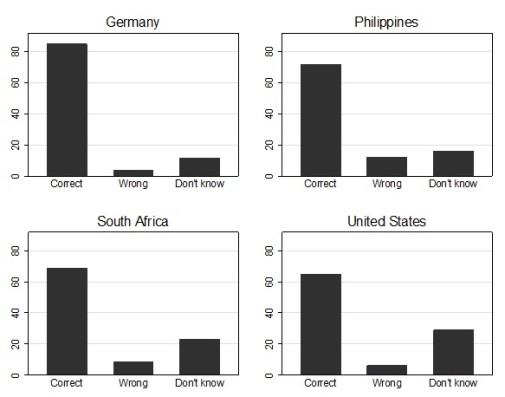 The results from this poll suggest that: 1. people may know more about GGIs than is commonly assumed; 2. awareness varies across GGIs; and 3. awareness varies across countries. For example, Filipinos are most aware about the IMF's headquarters, whereas US Americans are least aware (Figure 1). In contrast, Germans are most aware about the permanent members of the UN Security Council (Figure 2) and the issue concern of Amnesty International (Figure 3), whereas US Americans are least aware. These findings suggest a need for more comparative research on citizen knowledge across GGIs and countries.
Why do some people know more about GGIs than others?
Why do some people know more than others about GGIs? A recent study based on survey data on the UN Security Council for 17 Asian and European countries suggests three main explanatory factors. First, individual income matters. Richer people are more likely to have the time to gather knowledge and to be part of a social environment that facilitates maintaining knowledge. Second, economic inequality powerfully depresses knowledge levels among the poor. That is, poor people in relatively equal countries are more aware of the UN Security Council than poor people in relatively unequal countries. This finding suggests that wealthier citizens' power advantage allows them to consistently prevail in social and political conflicts, making poor people frustrated and politically uninterested over time. Third, social identity matters. Citizens identifying with people in other countries are more likely to be aware of GGIs, perhaps because such individuals are relatively interested in cross-border problems and in gathering knowledge about organizations addressing them.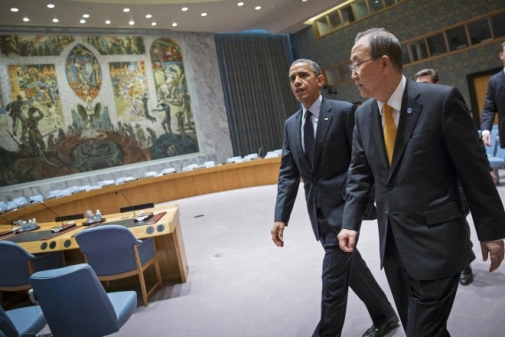 International Relations (IR) scholars have so far provided insufficient insight on existing inequalities in citizen awareness of GGIs. However, IR could fundamentally improve our understanding of how much people know about GGIs, and why some people know more than others. What is needed is targeted research on information politics by GGIs, knowledge diffusion among global actors, and how these factors shape the accumulation of knowledge about GGIs among citizens. A better understanding of what makes people knowledgeable about global governance could enhance the ability of policy-makers to craft effective solutions to one of the most intractable problems of today's global society: knowledge inequality.
Lisa Maria Dellmuth
Senior Lecturer in International Relations, Stockholm University, Department of Economic History