Hans Agné
Associate professor/Senior lecturer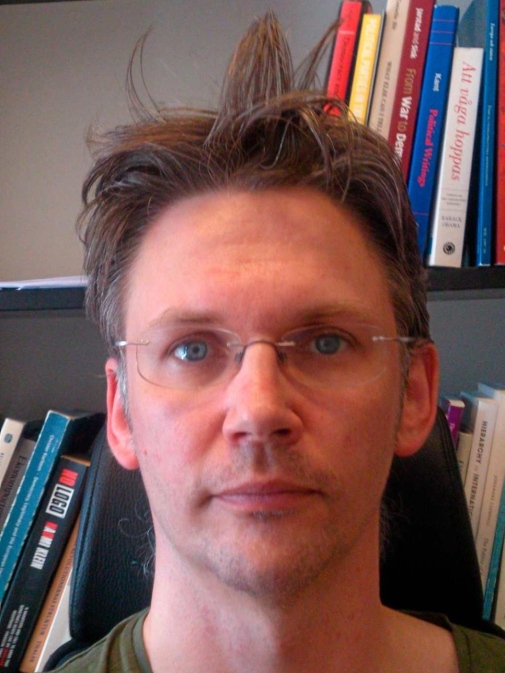 Current research interests
Many of my research interests connect to democracy in one way or the other. I am interested in the meaning, the value, the boundaries, the institutions, and the causes and effects of democracy, in particular but not exclusively beyond the state and in contexts where the role or power of states is changing. I have pursued research on these topics in political theory, comparative politics, international relations and international political economy. Some extensions of my central research interests include European politics, e.g. enlargement, constitutional, and monetary and fiscal politics. Other extensions, or specifications, of my core interest include civil society actors in global governance, promotion of democracy through foreign interventions, theories and politics of international recognition, emotions in international politics, problem solving capacities of international institutions, in particular regarding food security and peace and war.
Current research projects
Legitimacy in Global Governance
Today's more global world requires substantial global governance. Consider climate change, Internet communications, epidemics, financial markets, cultural heritage, military security, trade flows, and human rights. All indicate the significant global quality of key contemporary societal problems.
To make global governance operate effectively demands legitimacy: that is, the consent of those who are governed. Without legitimacy, an authority has to depend on coercion, secrecy and trickery – and policies are often less effective as a result. When citizens lack faith in global governance, it becomes more difficult to gain governments' support for ambitious policy goals, to secure national ratification of negotiated agreements, and to achieve effective compliance with rules and norms. Thus a lack of legitimacy means insufficient and ineffective global governance for today's global challenges.
The purpose of this research program is to offer the first systematic and comprehensive analysis of legitimacy in global governance. To what extent are global governance institutions (GGIs) regarded as legitimate? What explains that legitimacy? By what processes are GGIs legitimated and delegitimated? What are the consequences of legitimacy (or its absence) for the functioning of GGIs? How are these legitimacy dynamics in global governance similar to or different from the dynamics of legitimacy in the nation-state and other forms of governance?
While legitimacy in global governance has generated growing interest in recent years, it has not yet been researched methodically by a coordinated team of specialists. We address the overarching question of why, how, and with what consequences GGIs gain, sustain and lose legitimacy by exploring three principal themes: (1) sources of legitimacy, (2) legitimation and delegitimation strategies, and (3) consequences of legitimacy. In the broadest sense, the program considers what systematic attention to legitimacy can tell us about world politics, and what experiences from world politics suggest for understanding legitimacy in contemporary politics generally.
The Founding of Legitimate States: The Problem of External Constituent Powers
Funded by the Swedish Research Council
In normative theory it goes without saying that people should establish their own political orders. Perhaps the most famous expression of this moral intuition is found in the preamble of the American constitution. 'We the people… establish this Constitution…' began the founding fathers and sent a message to revolutionary movements throughout the world that people have a right to constitute their own states. However, the creation of new states may sometimes involve people with no intention of becoming citizens in the future state. The US-led imposition of new regimes on Afghanistan and Iraq is one example and the UN administration of post-conflict societies in Kosovo and East Timor is another. Could such policies be reconciled with the conviction that people should establish their own political orders? This project will develop normative theory so as to account for this question. It will identify traditional principles of how a legitimate state is constituted by powers internal to the state and assess their usefulness and validity in the context of external powers. The aim of the project is to decide in what ways, if any, external powers can and cannot be used for the purpose of constituting legitimate states.

Democracy Beyond the Nation State? Transnational Actors and Global Governance
Research program funded by the Bank of Sweden Tercentenary Foundation.
This research program explores the role of transnational actors in the democratization of global governance. More specifically, the program addresses three scholarly themes: (1) transnational actors and the democratization of international institutions, (2) democracy and public-private partnerships in global governance, and (3) the democratic credentials of transnational actors. The program goes beyond existing research in three central respects. First, it integrates normative democratic theory and empirical research in a global context. In contrast to the strong emphasis on normative theory in existing research, this program pursues a dual agenda, tracing the implications of alternative models of democracy for the prospects of democratization, and exploring empirically actual attempts to democratize international institutions through transnational organization. Second, the program adopts an ambitious comparative research design. As opposed to the single-case studies that dominate existing empirical research, this program operates with a broad comparison across issue-areas, and addresses transnational organization in fields such as trade, development, human rights, security, and the environment. Third, it includes and assesses the full spectrum of transnational actors. Whereas existing studies of transnational organization in global governance tend to focus either on civil society actors or multinational corporations, we study political processes that involve both categories, and assess the democratic credentials of both categories. The program is jointly conducted by researchers at Lund University and Stockholm University.

The Design of International Institutions: Legitimacy, Effectiveness, and Distribution in Global Governance
Funded by the European Research Council.
One of the most profound trends in global governance over the past two decades is the grow­ing extent to which international institutions offer mechanisms for the participation of trans­national actors. This project will explore two central research questions, pertaining to the causes and effects of this shift in the design of international institutions: (1) Why have inter­national institutions increasingly opened up to transnational actor involvement? (2) What are the consequences of involving transnational actors for the democratic legitimacy, problem-solving effectiveness, and distributional effects of international institutions? These are re­search questions that previously have not been explored systematically in existing literatures on international institutional design, transnational actors in global governance, and democracy beyond the nation-state. This project opens up a new research agenda on the design of inter­national institutions through an ambitious combination of novel theory development and comparative empirical research. Theoretically, the project develops and tests alternative hy­potheses about the causes and effects of transnational participation in international policy-making. Empirically, the project explores the dynamics of transnational participation through comparative case studies of five major international institutions, supplemented with a large-n mapping of formal mechanisms of transnational access in a broader sample of institutions. The project is led by Jonas Tallberg.
Academic training (selected)
Stockholm University, Stockholm.
Doctor in Philosophy in Political Science, November 2004.
Uppsala University, Uppsala.
M.A. in Political Science, January 1998.
Sorbonne College of French Civilisation, Paris.
French Literature and Writing, 1995-96
Teaching and research experience (selected)
Research Fellow and Lecturer, Stockholm University, since July 2005. Department of Political Science
Associate Research Fellow, Swedish Institute of International Affairs, Stockholm, 2004-2006, 2008.
Junior lecturer and researcher, Stockholm University, 1999-2003.
Public Commission Expert, Demokratiutredningen (Commission on Democracy), and EU-2004 Utredningen (EU-2004 Commission), Ministry of Justice, Stockholm, 1998-2002.