New book: "Populism may be good for democracy"
Modern populism is a global phenomenon here to stay, says Benjamin Moffitt, researcher at Stockholm University and author of "The Global Rise of Populism". The populist message is often simple: a crisis is imminent and the establishment doesn´t care about the common people. Populists also attract attention and votes by challenging established political rules and procedures.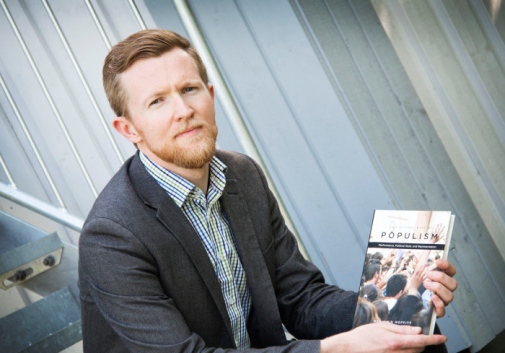 One of the more controversial conclusions in the book is that populism isn´t necessary all bad.
- People sometimes talk about the death of politics, but if you attend a Trump rally it feels like a rock concert. Obviously voters still retain a huge emotional investment in politics. The fact that established politicians often are unable to channel that is their own fault, and should not be blamed on those who can.
After living in Japan, Canada and Denmark and then returning back home to Australia to take a Ph.D. in political science, it wasn´t complicated for Moffitt to realize that populism is a global trend. It´s making fast progress in North- and Latin America, as well as in Europe, Asia and Africa. In the book "The Global Rise of Populism", published June 1 by Stanford University Press, he is analysing its causes, defining traits and consequences.
- Populism is expressed differently in for example North- and Latin America, he says, but also shares obvious similarities. The leader is always claiming to represent "the real people" versus the elite, regardless if, which is often the case, he or she is actually from a privileged background. This assumed common-ness is often expressed through vulgar language and 'bad manners'. The message is always the same: an imminent crisis is looming, that the leader alone can steer the country away from.
One of Moffitt's most evident conclusions concerns his own field of research, political science, and it´s lack of capacity to analyse populist leaders.
- Political analysts need to realize to what extent media, celebrity culture and politics are now merging, he says. You can't fully understand the popularity of Donald Trump by comparing him with Hillary Clinton. To an equal extent, he also needs to be compared with someone like Kim Kardashian.
Benjamin Moffit was born in 1985 and earned his Ph.D. at University of Sydney in 2014. He currently holds a position as Postdoctoral Research Fellow in the Department of Political Science at Stockholm University.
Read more about The Global Rise of Populism here.
Dr. Benjamin Moffitt may be reached at
Email: benjamin.moffitt@statsvet.su.se
Phone: 08 16 22 33
Twitter: @bjmoffitt